Tumelo's VP of Product, Duncan Leslie, on delivering for LGIM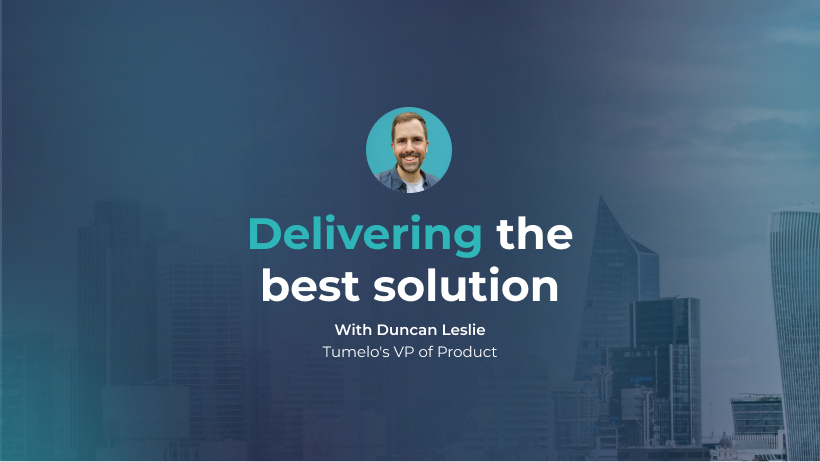 Interview by Iskandar Suhaimi, Content writer, Tumelo
Earlier this year, it was announced that Tumelo would power a new pass-through voting solution offered by Legal & General Investment Management (LGIM), making it one of the first UK asset managers to embrace this level of client empowerment.
The £2bn Local Government Pension Scheme (LGPS) for Camden is the first client to take advantage of the pass-through voting partnership (view case study).
Duncan Leslie, Head of Product at Tumelo, reveals the key product decisions that shaped the LGIM pass-through voting partnership.


What was the biggest product challenge in this process?
Proxy voting is an age-old process that has largely remained the same since it was digitised. Currently the only realistic way for underlying investors in a fund to vote is through costly and complex segregated mandates. They are simply not practical or available for all asset owners, especially smaller ones.
As such, pass-through voting would be a major change for the industry.
So I think the most important question we needed to answer was:
"How do we build a product that can convince each fund managers, asset owners and their proxy advisors that pass-through voting is not only possible, but easy (and necessary) to adopt?"
Our research led to a solution that works independently of a fund manager's voting processes and is simple for asset owners to use. This ensures that fund managers can continue voting how they have always done, and asset owners can take on as much or as little of the voting as they choose.


How did you solve that challenge?
LGIM's main concern was how we would attribute the right ballots to the right investors, proportionate to each investor's specific allocation to a fund. We call this "vote entitlement calculation".
We decided the best way to solve this would be to collect raw data at source. We built a proprietary vote-entitlement system that distributes "shadow ballots" to investors based on the data fed into it.
The three types of data that we use are: i) the make-up of each fund; ii) the asset owner's (client's) investment details; and iii) a feed of general meetings data.
Using these data sources, our vote entitlement engine gets to work; combining these datasets each day to output the correct pro-rated ballot entitlement for every investor on each issuer in the fund.
Once we proved to LGIM that the concept worked, we removed a huge blocker to its adoption of pass-through voting.
Which three product features do you think are the most innovative?
While there are many great features, my top three are:
Flexibility: Not all asset owners have the capacity or want to fully manage their own proxy votes. But they may still want to vote on specific topics that align with their values and strategy.

Our solution allows asset owners to vote on however many (or few) proposals they wish; with the knowledge that the rest of the votes can be left either to their voting policy, or their fund manager.

At the end of the day, no resolution goes un-voted.

Voting-policy agnostic: Our technology allows asset owners to use any voting policy they prefer. We're very happy to work with any provider regardless of size or type — we just need to agree how we'll receive the recommendations.

This means asset owners don't need to change proxy providers to work with us.

No disruption to fund managers: Our proprietary technology calculates the exact voting capital any given investor is entitled to, independent of the fund manager. Plus, fund managers' voting processes are completely unaffected as we include asset owners' votes after managers have placed theirs.


What have you learnt from this project with LGIM?
We've learned so much through this project — it's been fantastic to partner with the LGIM team and we have enjoyed learning from their vast knowledge and experience.
Going forward, we'll be focusing on how we can deliver our product to new customers faster and more efficiently, so their investors can start voting as soon as possible. We've designed the processes that need to happen when delivering our solution to a client, now we're going to streamline them and make implementation a simple and efficient experience for all parties. Thereby removing yet another blocker to adopting pass-through voting.


Looking forward, how do you think LGIM will most benefit from the product?
Our product further enhances LGIM's renowned stewardship service by giving them more options to offer to their investors.
Investors considering LGIM can take voting off the table and focus on other factors such as pricing and engagement — a considerable competitive advantage for the asset manager.