Powerful voting technology
that wins you clients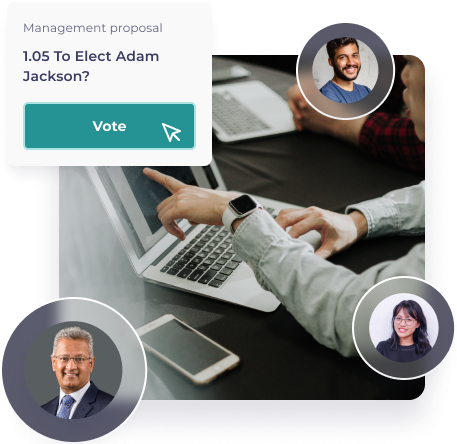 Who we work with









Our products:
voting and reports
Having an investor-voting offering is becoming a must-have. And we've got options for you: choose between pass-through voting or expression of wish.
Reach all your unit holders as we take care of solving omnibus custodian issues.
Give your pooled products voting flexibility like your segregated mandates.
Offer voting on all fund structures while still meeting your fiduciary duty.
Pass-through voting
If you're looking for a solution that allows you to give your investors the vote, pass-through voting allows your institutional investors to easily submit their vote instructions to you. Tumelo takes care of aggregating votes from all your institutional investors and submitting the resulting vote to the proxy intermediary.
Key features
Expression of wish
If you want to stay in control of the vote but you're keen to engage with your clients on a more regular basis by capturing vote preferences ahead of upcoming AGMs, then expression of wish is the voting product for you.
Key features
Reach all your unit holders
All fund and investor types
Simple-to-use web platform
Vote policies and rationale
Vote submission
Reporting
Whether your clients are using expression of wish or pass-through voting, Tumelo pulls your clients' vote-preferences data into one, easy-to-use report. Review client vote data, and comments on an ongoing basis to help you address areas of misalignment, spot changes in trends, identify account growth opportunities, refine your investment strategy and plan for upcoming client meetings.
Key features
By working together, Fidelity and Tumelo have been able to take this one step further by creating a bespoke Stewardship Hub, giving trustees the ability to interact with the stewardship approaches of their fund managers and ensuring the prioritisation of member outcomes.
Kim Nash
Independent Chair of Trustees, Fidelity Master Trust
Explore our products for:
Download

our white paper or book a demo for more information on pass-through voting.