Improve voting alignment and
boost reporting
Have your say on AGM proposals via pass-through voting or expression of wish. Get the essential data for your stewardship-reporting work all from one platform.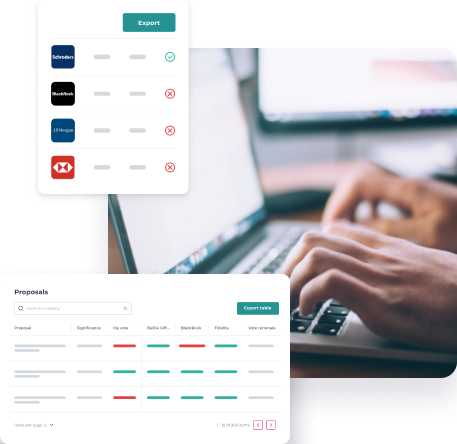 Our products:
voting and reports
Our products are built to make regulatory work easy. Use our bespoke voting technology to gain greater control over stewardship, and leverage our reporting tool to fulfil your legal duties.
Align voting across your portfolio
Exceed regulatory requirements
Access purpose-built, affordable products
Pass-through voting
Our market-leading technology enables institutional investors in pooled funds to cast a single vote at a specific meeting, which is then applied across multiple fund managers and funds that are accepting pass-through voting.

Key features:
Vote submission
Voting policies
Company's proxy documentation
Override proxy-advisor vote recommendations
Expression of wish
Our expression-of-wish product allows investors to proactively communicate voting preferences to their fund managers.

With the ability to see how fund managers have voted, expression of wish encourages better communication and accountability between asset owner and manager.
Vote-preference submission
Voting policies
Intuitive filtering
Company's proxy documentation
Override proxy-advisor vote recommendations
Reporting
Consolidate and analyse your fund's voting behaviour with our reporting solution. Built with regulatory compliance in mind, investors can export vote data to be used in reports such as PLSA Implementation Statements and more.
Key features:
Vote data from leading fund managers
Advanced filtering and search
Define significant vote criteria
Fund manager vote results and rationale
Export vote data and reports
Surface voting misalignment
Our flexible product suite for
institutional investors
Click on the links to find out more
Download

our white paper or book a demo for more information on pass-through voting.