Tumelo's industry roundtable: five insights you need to know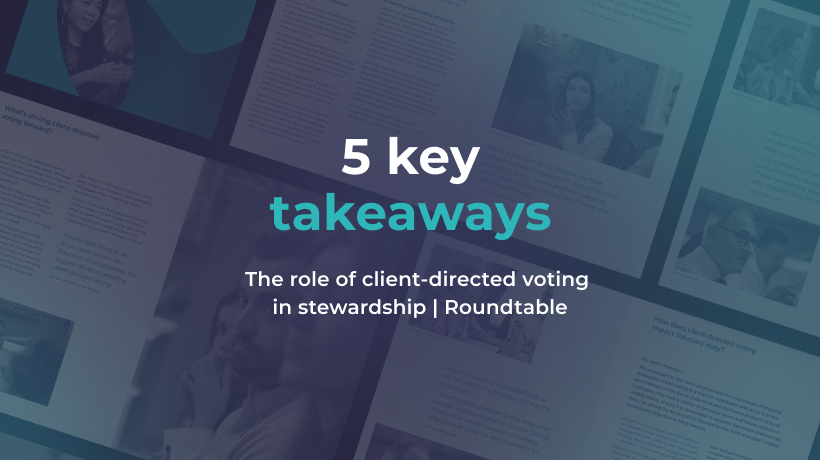 Author: Iskandar Suhaimi, Content writer, Tumelo
Tumelo's recent roundtable on "The role of client-directed voting in stewardship" featured leading voices from across the asset-management industry.
From actual client demand to learnings from those who've set up client-directed voting, the two-hour discussion was packed full of insights. The participants included:
Alasdair Kinloch, Independent Consultant and Strategic Advisor, Kinloch Consulting (Chair)

Michael Marks, Head of Investment Stewardship & Responsible Investment Integration, Legal & General Investment Management (LGIM)

Samantha Chew, Stewardship Lead, Aegon UK

Siobhan Archer, Global Stewardship Lead, LGT Wealth Management

James Lawrence, Head of Investment Proposition, Smart Pension

Jane Nicholls, Head of Business Development, Redwheel

Georgia Stewart, CEO, Tumelo
Below are the key takeaways you won't want to miss. For a full account of the roundtable, download our discussion paper.
1.

Client demand is rising

Client-directed voting, whether in the form of pass-through voting or expression of wish, is fast gaining traction.

For Michael Marks of LGIM and Alasdair Kinloch from Kinloch Consulting, client demand is the main factor pushing it forward. Drawing from his experience in global client-service roles, Kinloch explained that, "Once a significant number of clients start requesting it, every asset manager will move."

On the other hand, James Lawrence from Smart Pension believes that, as an asset owner and fiduciary, client-directed voting is simply "the right thing to do".
2.

Voting transparency enables more meaningful discussions

Pension-provider Aegon uses expression of wish to "express to our managers how we think they should vote and assess that against their voting behaviour," said Samantha Chew, its Stewardship Lead.

Previously, the voting data that Aegon received from asset managers made it hard for the firm to "properly assess if [its] managers were aligning with [its] principles". Expression of wish allowed the firm to better understand whether its asset managers share its principles.

Chew elaborated, "This has allowed us to have more meaningful discussions with our managers on where our [values] differences actually lie."
3.

Taking back the vote feels more powerful

Siobhan Archer of LGT Wealth Management took a different view, preferring pass-through voting's potential to make a direct impact.

This is particularly true for LGT's passive investments, she explains, as the focus on cost-competitiveness means that LGT doesn't always feel aligned with itsmpassive manager's voting policies.

"Considering that, Archer said, "taking back that vote is much, much more powerful."

"Pass-through voting gives us back that ability to influence," she emphasised.
4.

The right regulation is needed

On the possibility that client-directed voting becomes regulated, Marks underlined that, "The last thing we want as a manager is to have multiple solutions, which then drives up costs for customers."

He encouraged regulators to consider how different pieces of overlapping regulation interact with each other, to avoid overburdening stakeholders.

Even so, Chew believed that the right regulatory carrot or stick needed to be in place to shape client-directed voting to benefit everyone.

She said, "How do we incentivise and enable better voting and asset-owner oversight? Even if regulators just express their approval or clarify the legality of certain approaches, I think that will be helpful."
5.

Evolution of voting is inevitable

Participants exercised great nuance in their answers to the question: Where do you see client-directed voting in five years?

While, overall, there was a hope for better collaboration between asset owners and managers, Georgia Stewart of Tumelo embraced the uncertainty.

She said, "When you enable this kind of change, it's not the change itself that is interesting, but what will come from it." Whether it's an increase in proxy advisors or a new investment vehicle that enables shareholder agency, Stewart admitted that, "It's so hard to know where client-directed voting will lead."

--

Download our roundtable discussion paper to dive deeper into the participants' conversations.