Take control of your
stewardship strategy
Understand how your fund managers are voting so you can close the alignment gap.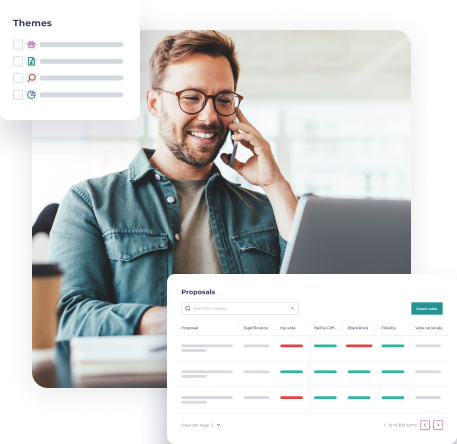 Who we work with









About
vote reporting
Tumelo's vote-reporting solution pulls together data on your fund's voting activity into one, easy-to-use platform. Take a proactive role in your stewardship strategy by tracking fund-manager alignments, highlighting significant votes, and more.
Vote data from leading fund managers
Tumelo consolidates vote data from our relationships with over 140 fund managers, presenting them on our easy-to-use web platform.
Fund managers' voting and significant votes rationale
See the "why" behind fund managers' voting decisions, and the rationale behind votes they have deemed "significant".
Review the compatibility of your fund managers' voting rationale with your stewardship strategy
Contextualise any misalignments
Verify whether fund manager votes align with your scheme's significance criteria
Advanced filtering and search functions
Our platform gives the ability to filter by:
Export vote data and reports
Vote data and additional information can be exported easily into a spreadsheet, allowing for deeper interrogation. Data can also be exported as a PDF, covering:
Vote alignment
Fund manager vote history
Vote data by proposal themes
Enhance your implementation statement
Effectively prepare for investment-committee meetings
Check your scheme is meeting its stewardship responsibilities and aligned with your SIP
Define significant-vote criteria
Enable your clients to define and save significance criteria based on proposal themes that align with their stewardship policies, and issuers of significant interest. They can also flag individual proposals as significant.
Surface gaps in voting alignment
Highlight gaps in voting alignment on proposals across multiple factors, including:
AGM result and votes placed by your client or fund manager
Voting across different fund managers' votes
Voting in comparison to your clients' votes or voting preferences
Voting in comparison to your clients' vote policy
Identify stewardship conflicts quickly
Facilitate focused discussions to encourage voting alignment
Access a wide range of
voting policies
Select from a range of voting policies provided by leading proxy advisors and receive research and recommendations that reflect your stewardship-policy aims.
Institutional investors with an existing voting policy for their segregated mandates can also apply this policy to their
pooled funds.
Download

our white paper or book a demo for more information on pass-through voting.