Tumelo teams up with proxy advisors to launch Stewardship partnership program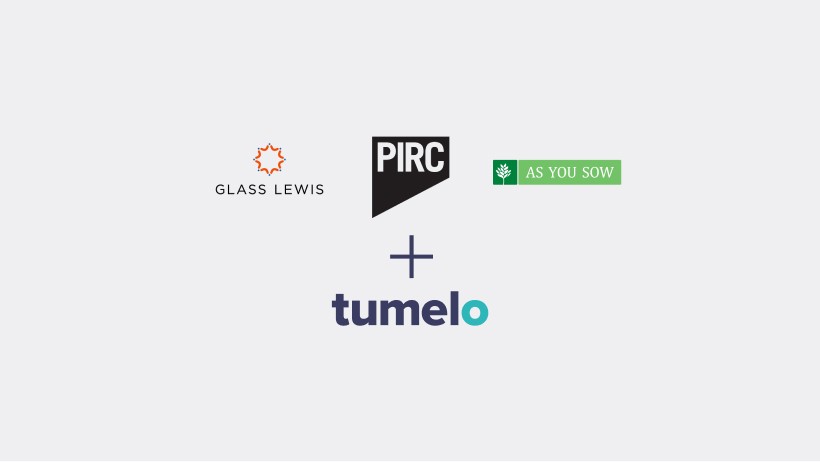 Tumelo has partnered with Glass Lewis, Pensions & Investment Research Consultants Ltd (PIRC), and As You Sow, allowing investors to choose voting policies to match their values and priorities and have them automatically applied to their votes
By bringing this level of information that is typically reserved for fund managers further down the voting chain, Tumelo is furthering their mission of democratising voting
Investors can vote at scale on the issues they care about across their investment holdings
Tumelo helps fund managers win and retain clients with diverse vote policies through their pass-through voting infrastructure. Their technology enables both retail and institutional investors to vote directly on the shares held in their pooled funds
Shareholder voting FinTech Tumelo has brought together partnerships with proxy advisors Glass Lewis and Pensions & Investment Research Consultants (PIRC), as well as with As You Sow, to combine with its own in-house technology to deliver pass-through voting to the institutional and retail clients of fund managers.
Tumelo provides the pipes for the votes whereas the proxy advisors provide the advice and recommendations.
Policymakers at the Treasury, DWP and FCA have been releasing recommendations to better hold fund managers to account with respect to stewardship. In 2021 the Taskforce on Pension Scheme Voting Implementation Report published a series of recommendations for tightening up the voting relationship between asset managers and asset owners.
Through Tumelo's new stewardship tie up with Glass Lewis, PIRC, and As you Sow:
Both retail and institutional clients will have access to high quality proxy research to better make decisions at the point of voting.
Fund managers will be able to display their vote intentions to their investors ahead of the vote.
Tumelo's technology means investors can vote at scale across their investment holdings on the issues they care about, while fund managers can continue to vote on any shares on which their investor clients have chosen not to exercise their own preference.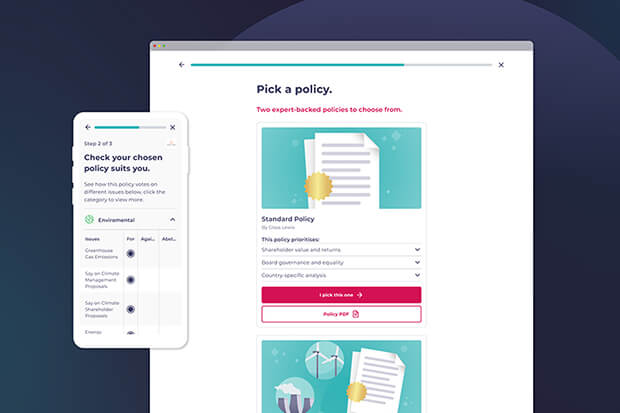 Will Goodwin, co-founder at Tumelo, said: "This partnership allows Tumelo to solve two big problems for our customers. Investors across the network are now provided with the same high-quality advice as fund managers, helping them to make informed decisions. We can also now show investors how their fund managers intend to vote in the fund ahead of it happening, allowing for greater transparency."
Dan Concannon, Chief Commercial Officer at Glass Lewis, added: "Glass Lewis has developed a suite of thematic proxy voting policies to meet the varying needs of investors. For example, we have a Climate Policy for those investors who wish to prioritize the mitigation of climate risk in their investments. We also recently launched the Governance-Focused Policy which ensures that boards of directors are appropriately positioned to devote the time and attention necessary to fulfil their fiduciary duty to shareholders. Our important partnership with Tumelo will widen the access to our policies and enable more investors to vote in alignment with their goals."
Tom Powdrill, Head of Stewardship, PIRC Limited, said: "All of us at PIRC are very excited to be working with Tumelo on this ground-breaking initiative to empower investors. For too long asset owners have been frustrated by their inability to apply their voting policies when they invest through pooled funds. We also understand the challenges asset managers face in accommodating increasingly divergent client views. Tumelo has developed a great solution to these problems and we are already talking to a number of clients about how they can use it. This is a real breakthrough for effective stewardship."
Andrew Behar, CEO of As You Sow, a US-based shareholder advocacy non-profit, said: "Our ESG-aligned voting platform called As You Vote has, to date, only been available for institutional investors. Tumelo has empowered pension holders and individuals with their savings in mutual funds and ETFs to subscribe to our guidelines and align their proxy voting with their values. Making proxy voting more democratic will enable every person who is saving for their retirement to send a strong signal to company management and their boards that they want to see accurate disclosure of material information, reduction of risk, and the implementation of policies and practices to achieve a just and liveable planet for themselves and their children."
About Tumelo
Tumelo was established at Cambridge University, where our founders, Georgia, Will and Ben, campaigned for the sustainable investment of their university's £6 billion fund.
Tumelo is a pioneering impact-focused financial technology firm, and their vision is that by 2030, every investor will have their shareholder's vote.
Tumelo provides platforms to multiple stakeholders in the investment sector to improve engagement between shareholders, pension providers or investment platforms, trustees, and fund managers. The company's platforms provide each stakeholder with shareholder preference data and the insights and information they need to carry out their fiduciary duties with ease.
Find out more about Tumelo at www.tumelo.com
About Glass Lewis
Glass Lewis is the leading provider of independent global governance solutions. We enable institutional investors and publicly listed companies to make sustainable decisions based in research and data. We cover 30,000+ meetings each year, across approximately 100 global markets. Our customers include the majority of the world's largest pension plans, mutual funds, and asset managers who collectively manage over $40 trillion in assets. Our core solutions include Proxy Paper proxy research and Viewpoint proxy vote management platform.
Additional information is available at www.glasslewis.com. You can also visit the Glass Lewis Blog or follow us on LinkedIn.
About PIRC
Pensions & Investment Research Consultants Ltd (PIRC) is Europe's largest independent corporate governance and shareholder advisory consultancy with over 25 years' experience in providing proxy research services to institutional investors on governance and other ESG issues. Our clients encompass major institutional shareholders, faith-based investors, trade unions and other responsible investors.
About As You Sow
As You Sow is the US's leading shareholder advocacy non-profit, with a 30-year track record promoting environmental and social corporate responsibility and advancing values-aligned investing. Its issue areas include climate change, ocean plastics, pesticides, racial justice, workplace diversity, and executive compensation. Click here for As You Sow's shareholder resolution tracker.
Contact:
Scott Sinclair
the lang cat
scott@langcatfinancial.com
07704 338594