Fidelity International and Tumelo launch market-first Stewardship Hub for clients, trustees and their advisors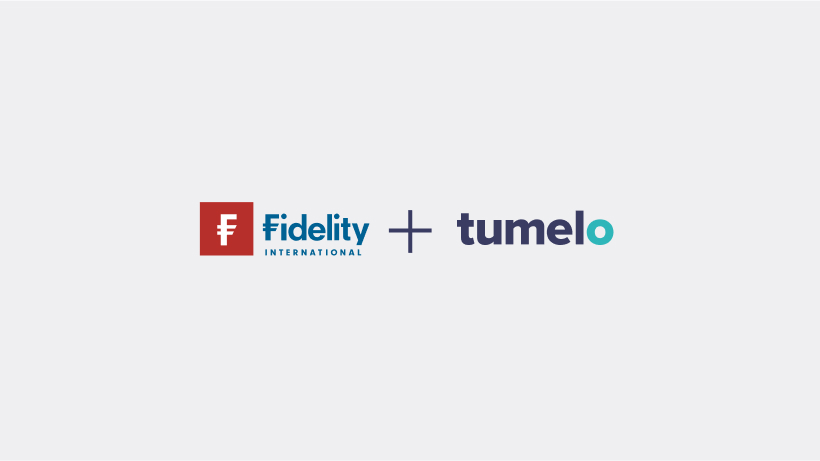 London, 13 April 2022:
Fidelity International, in partnership with impact-focused FinTech, Tumelo, has launched a market-first Stewardship Hub to provide governance and insights for workplace pension clients, trustees and their advisors.
The new Stewardship Hub - built by Tumelo in partnership with Fidelity - enables pension scheme clients and trustees to look through the underlying fund holdings of a scheme's portfolios and receive details of the stewardship activities of their fund managers.
As well as providing greater visibility of fund managers' stewardship decisions, the Hub enables trustees to meet their obligation to produce an Implementation Statement as part of their annual report, through its inclusion of Pension and Lifetime Savings Association (PLSA) statistics and copies of fund manager policies. In this way, the Hub aids communication between asset owners and fund managers by providing a centralised place for information, analysis and comparison and streamlines data operations, while also facilitating reporting for fund managers.
The Stewardship Hub also displays the vote preferences of pension scheme members on different company issues, from climate change to gender equality, where Tumelo's Shareholder Platform is made available to them. In line with the Government's Taskforce on Pension Scheme Voting Implementation (TPSVI), Tumelo enables trustees to extend their fiduciary responsibility to stewardship and to make sure voting and engagement undertaken by fund managers is in the long-term best interests of members.
The Hub will be rolled out in phases to Fidelity Master Trust clients, who will be able to provide feedback on the Hub and its features.
Tumelo, an impact-focused FinTech, shows individual and institutional investors the companies their pension is invested in and empowers them to engage with fund managers on ESG issues that are important to them. Tumelo, in partnership with Fidelity, is responsible for the technical build of the Hub, as well as collaborating with fund managers to obtain and maintain accurate stewardship data and statistics.
Anne-Marie Brennan, Platform CIO and Head of Products, Fidelity International, commented: "The creation of the Stewardship Hub in partnership with Tumelo emphasises Fidelity's wider commitment to helping clients achieve their ESG targets while meeting their regulatory obligations via pioneering solutions. A market-first, this centralised Hub enables better visibility, analysis and communication between fund managers and trustees, ultimately benefiting the thousands of members who look to their pension providers to represent their voices."
Kim Nash, Independent Chair of the Trustees, Fidelity Master Trust, commented: "Tumelo is already well-known in the pensions industry for giving investors a transparent view of the companies they own and a shareholder voice on issues they care about. By working together, Fidelity and Tumelo have been able to take this one step further by creating a bespoke Stewardship Hub, giving trustees the ability to interact with the stewardship approaches of their fund managers and ensuring the prioritisation of member outcomes."
Georgia Stewart, CEO, Tumelo, commented: "Working with Fidelity to create the Stewardship Hub has allowed Tumelo to bring a new experience for institutional investors and especially pension trustees. This innovation will enable Fidelity's clients to align with new and enhanced policies such as the Implementation Statement, the Stewardship Code, and the latest recommendations from the United Nations and the UK Government. We are excited to evolve this product to further improve communication and collaboration between fund managers, asset owners and beneficiaries on stewardship."
ENDS
About Fidelity International's Master Trust Board:
Kim Nash, Independent Chair of the Trustees
Kim is a Director at PTL Governance Ltd, which she joined in February 2012. Kim is a qualified Actuary and has significant DC trustee experience with DC Master Trust, Independent Governance Committees, single employer trusts and hybrid schemes.
About Tumelo
Tumelo is a multi-award-winning impact-focused financial technology firm with a mission to enable retail investors and asset owners to use their shareholder voices. Through strategic partnerships, Tumelo enables leading pension providers and investment platforms to provide their end-users and institutional clients with transparency over the companies they are invested in, a shareholder voice on issues they care about, such as gender equality or climate change and accountability in the stewardship process. Tumelo's white-label software delivered via APIs and/or a user hub easily integrates with existing investment platforms and significantly improves engagement, acquisition and retention for providers.


About Fidelity International
Fidelity International offers investment solutions and services and retirement expertise to more than 2.5 million customers globally. As a privately held, purpose-driven company with a 50-year heritage, we think generationally and invest for the long term. Operating in more than 25 countries and with $812.8 billion in total assets, our clients range from central banks, sovereign wealth funds, large corporates, financial institutions, insurers, and wealth managers, to private individuals.
Our Workplace & Personal Financial Health business provides individuals, advisers, and employers with access to world-class investment choices, third-party solutions, administration services and pension guidance. Together with our Investment Solutions & Services business, we invest $610.5 billion on behalf of our clients. By combining our asset management expertise with our solutions for workplace and personal investing, we work together to build better financial futures. Data as at 31 December 2021. Read more at fidelityinternational.com
Fidelity only offers information on products and services and does not provide investment advice based on individual circumstances, other than when specifically stipulated by an appropriately authorised firm, in a formal communication with the client.
Fidelity International refers to the group of companies which form the global investment management organisation that provides information on products and services in designated jurisdictions outside of North America. This communication is not directed at, and must not be acted upon by persons inside the United States and is otherwise only directed at persons residing in jurisdictions where the relevant funds are authorised for distribution or where no such authorisation is required.
Unless otherwise stated all products and services are provided by Fidelity International, and all views expressed are those of Fidelity International. Fidelity, Fidelity International, the Fidelity International logo and F symbol are registered trademarks of FIL Limited.
FIL Limited assets and resources as at 06/04/2022 - data is unaudited. Third party trademark, copyright and other intellectual property rights are and remain the property of their respective owners.
This material is for Investment Professionals only, and should not be relied upon by private investors.
Issued by FIL Life Insurance Limited. Authorised by the Prudential Regulation Authority and regulated by the Financial Conduct Authority and the Prudential Regulation Authority. Registered in England and Wales No. 3406905.