Expert research paper on proxy voting says Tumelo's technology is a "promising" solution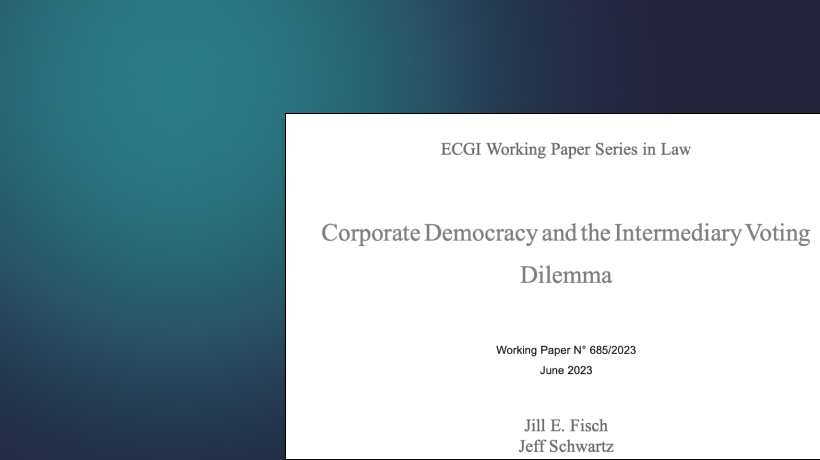 Corporate governance experts Jill Fisch and Jeff Schwartz have recently mentioned Tumelo in their research paper analysing the current state of corporate proxy voting.
The paper, titled "Corporate Democracy and the Intermediary Voting Dilemma", challenges the notion that fund managers must only seek to maximise share prices in order to fulfil their fiduciary duty towards fund beneficiaries. It argues that fund managers must seek the views of fund beneficiaries, such as pension-fund and mutual-fund members, when casting proxy votes on behalf of their funds.
Tumelo was named as a promising company that offers the technology to collect beneficiaries' vote preferences, allowing fund managers to "tailor their voting policies accordingly". The paper also highlighted Tumelo's pass-through voting solution as a way for institutional investors such as pension and mutual funds to directly reflect their beneficiaries' views in proxy votes.
Their paper concludes that fund managers must actively exercise their expert knowledge when casting proxy votes, incorporating beneficiary preferences and their own financial acumen to make the best decisions. The paper can be accessed on the Social Science Research Network website.
--
Jill Fisch is a Distinguished Professor of Business Law at the University of Pennsylvania in Philadelphia, USA. Her work focuses on the intersection of business and law and has been published in numerous leading journals including the Harvard Law Review and the Yale Law Journal.
Jeff Schwartz is a Professor of Law at the University of Utah in Utah, USA, and his work focuses on securities law, investment-management regulation, and retirement policy. His work has been published in distinguished journals such as the Washington University Law Review and the Harvard Business Law Review.