What it's like on the Retail team with Tumelo's Ben Pierce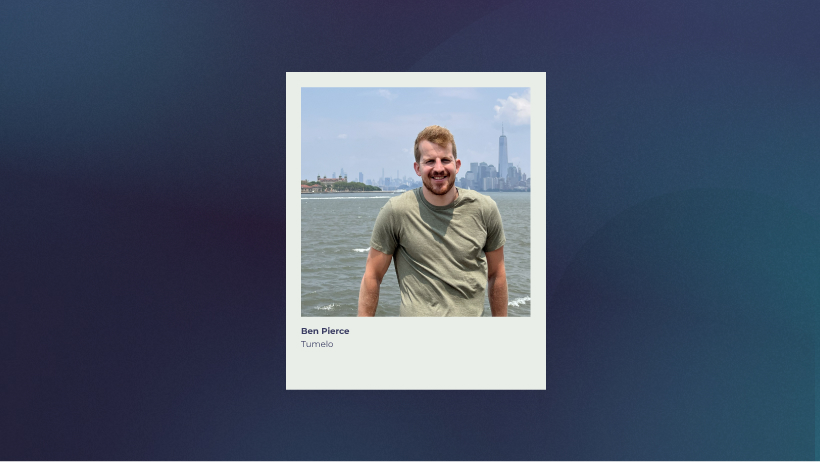 Iskandar Suhaimi, Content writer, Tumelo
Ben Pierce is one of five Tumelo members behind our next-generation retail solution for the asset-management industry.
Read about his time at Tumelo and what it's like working on our retail client-directed-voting solution.
Hi Ben, please introduce yourself and what you do at Tumelo.
I'm a software engineer and I specialise on the front-end. Like many other engineers at Tumelo, however, I contribute across the company's full tech stack.
At two years and 10 months, you're one of Tumelo's earliest employees. How has working at Tumelo been like?
I joined Tumelo at the height of the pandemic, so I've tried my best to expunge most of it from memory!
Jokes aside, Tumelo has been a fun and challenging experience. I've seen the business evolve from being a fully remote startup to now having offices in Bristol, London and New York.
When I joined, I knew from the start I wanted a more leading role as a front-end engineer. So when the Retail team was being put together, I put my name forward.
As an engineer at Tumelo, regardless of the team I'm in, I've had to be both flexible and driven in building software that meets the business' evolving needs while meeting the high expectations of the financial industry.
The Retail team works in two-week "sprints". Could you share what a typical sprint looks like?
As a cross-functional software team, we've adopted some of the usual sprint processes you'd expect. But ultimately, our approach is engineer-led and we try to focus on the stuff we want to do — like coding — rather than being distracted by the Agile Manifesto.
I think this shows just how much the business trusts each team to figure out their own ways of working.
What do you enjoy most about your role?
What I enjoy most is the collective approach to working out our goals and how we get there — within the confines of the business' overall mission.
We have the licence to make technical decisions that not only consider industry trends, but also complement the existing tech stack and knowledge base of the team.
It really fosters a culture of autonomy and empowerment.
What is the one thing you'd want someone joining Tumelo to know?
Expect to contribute outside of your immediate remit.
In addition to the engineering work that I do at Tumelo, I've also had opportunities to shape the vision of the product and its roadmap.
There will of course be KRs that the team work towards, but importantly, we get to work out how we get there. And because we have such a big engineering team here (almost half the business!), you have a deep pool of knowledge and experience to draw on.
At the end of the day, you feel that everyone is working towards a common goal.
--
Interested in joining the team? Head to our website and check out the roles we're recruiting for at the moment.