Expert panel: Voting-delegation trends and how the industry can prepare for the future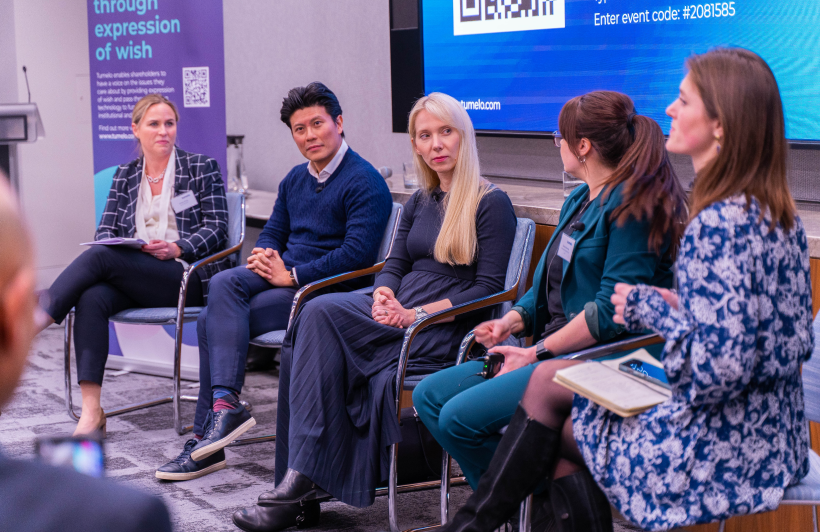 Left to right: Kirsty King, Jenn-Hui Tan, Maria Nazarova-Doyle, Olivia Mooney


Discussing voting-delegation trends wasn't an obvious way to lift the January blues this year. Still, it was certainly effective for guests at Tumelo's panel event hosted at the Fidelity International offices in London.
We were delighted to be joined by a stellar lineup, including:
Maria Nazarova-Doyle, Head of Responsible Investments and Stewardship, Scottish Widows,
Olivia Mooney, Investment Consultant, Hymans Robertson LLP,
Kirsty King, Head of Corporate Communications, BlackRock,
Jenn-Hui Tan, Head of Stewardship and Sustainable Investing, Fidelity International


Read on to find out how asset owners and asset managers are using voting solutions today – the benefits, challenges and if they think flexible voting options are here to stay.


The critical role of stewardship in today's market
Stewardship has a critical role in the world of investing - so critical that the responsibility is shared between the fund manager (asset manager) and the investor (asset owner). Effective stewardship includes two major components: engagement and voting. Engagement is where an asset owner or manager engages in a dialogue with the companies they are invested in to drive better outcomes; voting happens at company shareholder meetings, where shareholders have the right to vote on key company decisions, such as executive pay and director elections.
Voting is often delegated to fund managers, such that they hold much power in today's market. They manage trillions of assets, with much of this capital allocated to companies that significantly impact society; corporations affect individuals, their workforce, those in the supply chain, and the communities they are involved in.
Fund managers recognise that the money they manage is not their own and that they represent a broad range of underlying asset owners. Kirsty King, Head of Corporate Communications for EMEA at BlackRock, noted this as one of the drivers behind the asset manager's voting product:
"BlackRock Voting Choice is centred in client choice, and that's because, as you highlight, the money we manage, it's not our own, it belongs to our clients."
In recent years, regulation has spotlighted stewardship, with topics such as climate change action, workers' rights, equality, CEO pay and board elections coming under increased scrutiny by investors. Asset owners are keen to understand the stewardship process better. Many are taking a more active role in stewarding their assets to ensure that the asset managers' engagement and voting strategy closely aligns with their investment strategy.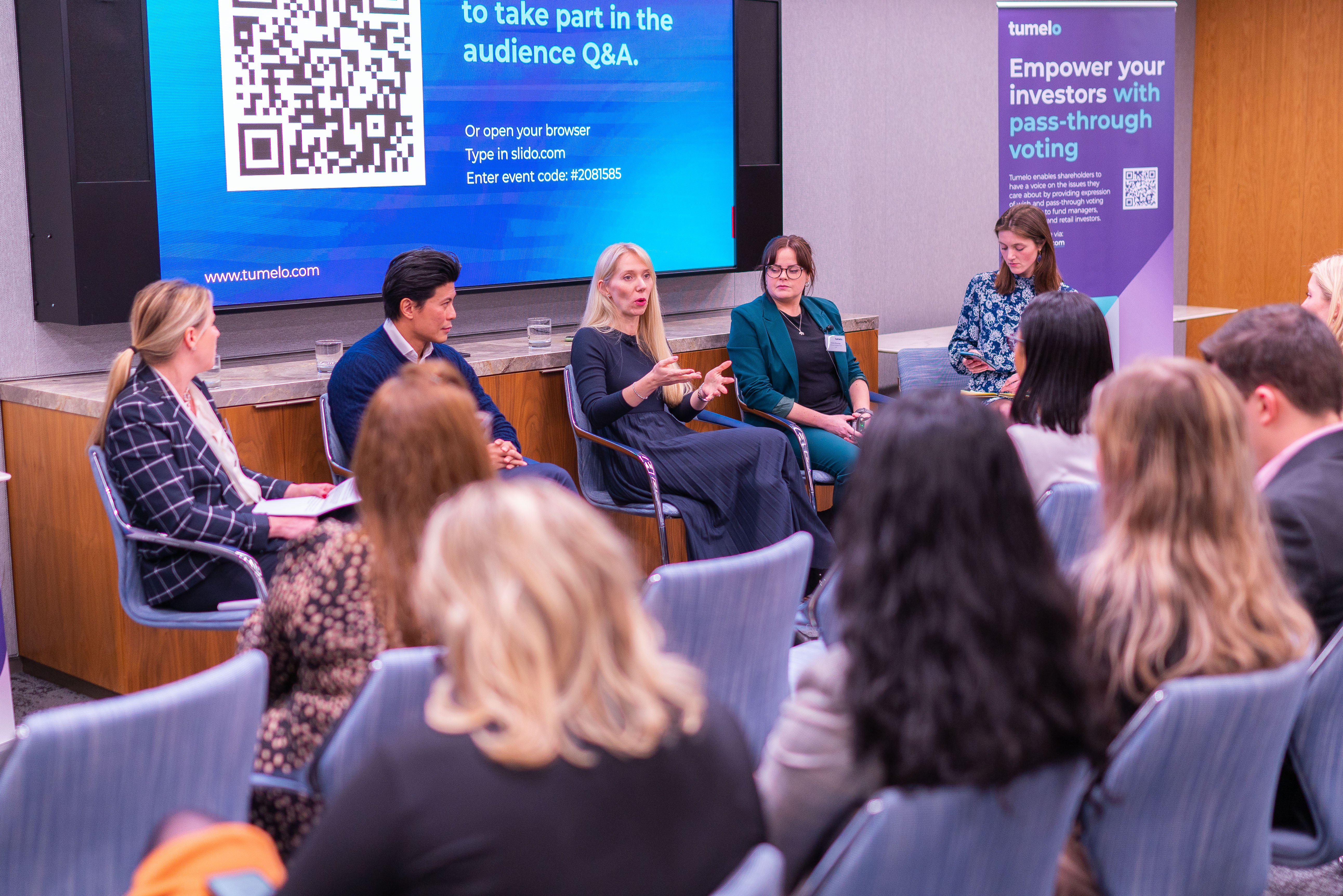 It's all about dialogue and alignment
Maria Nazarova-Doyle, Head of Responsible Investments and Stewardship at Scottish Widows, explains that, until recently, asset owners who wanted to take a more active role in voting needed segregated mandates. Historically, due to costs, segregated mandates were typically used only by larger pension plans, and smaller asset owners were prevented from participating.
One of the issues the team at Scottish Widows identified through working with around 80 asset managers is conflicting votes within portfolios. She outlined:
"..overall we have around £200bn in assets, so you'd think that this amount of money is probably making a difference. But when you look at how managers have voted, there were instances where votes were cancelling each other out. So you can get into a situation where £200bn assets don't stand for anything; it's just a nil result, which is awful because we have a duty to fulfil to our beneficiaries, our pension plan members."


Does voting help asset owners to be more effective stewards?
One tool recently emerging to support asset owners in taking a more active role in the stewardship process is investor voting solutions. Investor voting solutions are designed to enhance the two-way dialogue between asset owner and asset manager on the issue of shareholder and management proposals.
When BlackRock (asset manager) launched Voting Choice in 2022, the firm was continuing to put client choice front and centre of everything they do with proxy voting choice available to support clients in meeting their long-term goals.
King commented: "When you look at the evolution of investing over decades, you can see diversification and clients expressing their differences in risk profiles, time horizons and more. We think that this choice should extend to proxy voting."
Olivia Mooney, Investment Consultant at Hymans Robertson LLP, explains that some clients want to understand managers' stewardship for Implementation Statement disclosures, while others want to dig deeper to scrutinise engagement and alignment of voting across appointed managers, for example. In both scenarios, asset owners are showing a clear desire for visibility of voting and engagement data.
Asset managers can achieve the flexibility needed by offering investors the choice to:
vote on specific issues or at selected companies,

select from a range of third-party voting policies,

continue to delegate to fund managers or

adopt a hybrid model.
Mooney explains: "Our role as a consultant is to help our client focus, so we'll look for gaps in alignment between the votes cast, their policies, the various mandates they have and their vote expectations. There is so much they could be engaging their managers on; it can be quite overwhelming, particularly for our smaller, resource-challenged clients. Having access to data sets is critical in allowing clients to engage their managers effectively as stewards and make progress on alignment.


What challenges exist?
Mooney raised an important point:
"One of the biggest issues we have is that some asset owners don't even know the option to have better data sets, segregated voting in pooled funds or pass-through voting exist. So there's an awareness issue, and we're working with clients to determine the best option for them."
When asked if asset managers could foresee a time when they would need multiple stewardship policies, Jenn-Hui Tan, Head of Stewardship and Sustainable Investing at Fidelity, cautioned against the idea: "Whilst a fund manager will have multiple investment strategies, we have one stewardship strategy because we are trying to achieve a specific goal – to improve the companies that we invest in to drive better, sustainable behaviour. I don't know if splitting our stewardship strategy and approach and potentially having different votes and asks of companies helps us achieve that."
He continued: "The current iteration of voting options is not a substitute for good due diligence on managers, stewardship, and voting practices. In a fully aligned stewardship strategy, you should have capital allocation, engagement and voting working together.
Tan asks: "With a menu of different policies to choose from, are asset owners pushing more power to the proxy advisors? Proxy advisors have a key role to play, but in the end, they're just that – advisors. They shouldn't be able to drive how we as an industry think about good outcomes for our clients because we are ultimate fiduciaries for that, not voting agencies."


Making sure investments have an impact
Nazarova-Doyle suggests that it's only in the last few years that the industry has recognised how important effective stewardship is and how voting plays into that, driving real change in the world.
Nazarova-Doyle comments, "If we look at ShareAction's recent report, which is an annual publication, on Voting Matters, which is brilliant – then you can see the massive discrepancies in how managers think about different resolutions and different votes."
Adopting Voting Choice with BlackRock and now onboarding voting solutions with State Street, Scottish Widows will be able to apply the same voting policies across all their equity managers in the default strategy. Using a single voting policy means that the whole default fund is aligned, which is as in-tune with Scottish Widows' voting guidelines as possible, ensuring that all investments are driving towards the right outcomes.


Voting as a competitive differentiator
The Scottish Widows team now has the data and tools to have forward-looking discussions and work together with their asset managers to close any gaps in alignment. It's a two-way dialogue: for active funds, Scottish Widows can choose whether to apply a voting policy or leave the vote with their asset manager. Nazarova-Doyle would ideally like to also be able to vote on specific resolutions in passive funds in addition to policy options that she now has.
When asked if her choice of asset manager would be influenced by whether they offer voting choice, Nazarova-Doyle replied, "Yes, I think now that we've had a taste for it, it's very hard to go back."


Conclusion
Realistically many asset owners will either want to fully outsource or want full responsibility for voting, unlike Scottish Widows, who want to focus on specific issues or companies that are important to their beneficiaries, and where they feel they can have an impact but it should be their choice. Whatever asset owners choose, greater vote transparency and more flexible voting solutions will lead to richer dialogues between asset owners and their asset managers, and, in the end, asset owners will be more empowered to generate returns and shape society, through capital allocation and stewardship, on behalf of their beneficiaries.
Thank you to all who attended our event in January, and special thanks to our panellists for such a thought-provoking and productive discussion.
To find out more about pass-through voting – download our new white paper: A deep dive into pass-through voting