Tumelo's unique approach to voting policies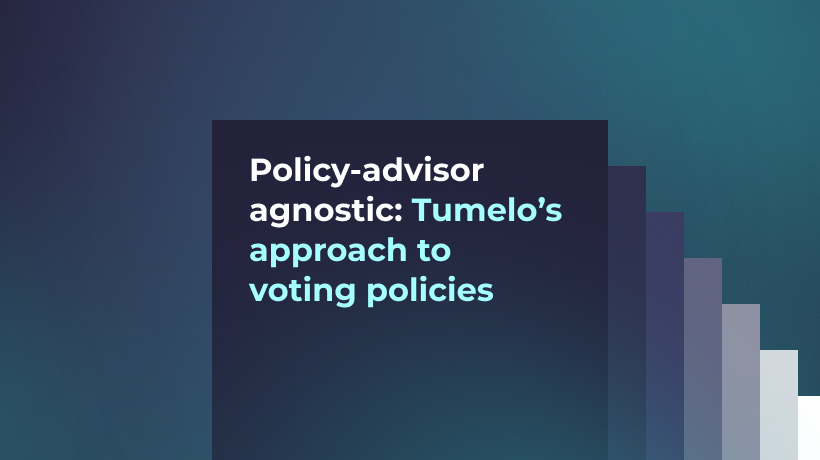 Author: Maddie Day, Digital Marketing Executive, Tumelo
Tumelo's innovative pass-through voting solution allows fund managers to empower their investors with unparalleled flexibility and choice.
Our technology is designed to be agnostic to any proxy advisor, allowing investors to select recommendations from a wide array of policies, as well as allowing the fund manager to implement bespoke and existing asset-owner policies.
In this blog, we take a closer look at Tumelo's unique approach to voting policies.


Select from a comprehensive range of policies
Tumelo partners with industry-leading proxy advisors such as Glass Lewis, PIRC, and As You Sow. Our curated range of voting policies covers a diverse spectrum of themes and strategies, including governance, environment-focused, and faith-based.
Tumelo's broad selection of policies ensures that investors can access a comprehensive suite of voting strategies that is aligned with their investment objectives.


Go beyond our partnerships
In addition to our direct partnerships, Tumelo's pass-through voting technology can integrate most voting policies in the market, including a fund manager's or their client's bespoke policy.
This means investors have the option to implement custom policies by contracting directly with a proxy advisor of their choice. This unique feature further expands the range of options available to them.


Greater flexibility and control for investors
At Tumelo, we believe in providing investors control over their voting activity. That's why we offer investors the ability to deviate from their voting policy recommendations if it contradicts their stewardship strategy.
As a safeguarding measure, Tumelo also permits fund managers to override the ultimate split vote if they believe it could significantly harm their fiduciary responsibility.


Mitigate single-vendor risk
Tumelo's independence from proxy voting advisors safeguards investors against concentration risk; shielding them from over-reliance on a single proxy advisor. This means that in the event of a proxy-advisor switch, our pass-through voting service will remain unaffected. This protects the interests of fund managers and their clients, as well as future-proofs our solution.
--
Tumelo's pass-through voting solution revolutionises the way investors engage with voting policies. Our technology prioritises choice and flexibility, ensuring that investors have the freedom to make voting decisions that matter to them.
See how we're powering pass-through voting for Legal and General Investment Management (LGIM) in our case study here.