Thoughts from the LAPFF's Mid Year Conference 2023
Author: Edd Micklem, VP, Head of Strategic Partnerships, Tumelo
Last week on the 12th of July 2023, I attended the Local Authority Pension Fund Forum's (LAPFF) Mid Year Conference 2023, brought about due to the popularity of their well-regarded Annual Conference.
Below are some thoughts on the topics that were discussed.
Why support for ESG proposals are down
During his session, Paul Hunter, the Director of Policy at proxy advisor PIRC observed that while shareholder resolutions on ESG have gone up this proxy season, support has diminished.
Paul discussed a number of different theories as to why this is, including the ongoing anti-ESG sentiment in the US. Most likely, we have witnessed a perfect storm within the macro-environment, including; the war in Ukraine, compounded by an energy crisis and the weak economy, which has collectively weakened the ESG resolve of many companies. Oil companies particularly, are justifying continued expansions of oil operations by emphasising the need to maintain affordable energy prices.
Can resource-sharing bolster support for ESG resolutions?
The LAPFF's support for ESG issues is well known. The group supported the Follow This climate resolution at BP (which received 16% support at the AGM), and is a co-lead on National Grid with Climate Action 100+. Given the decreasing support for ESG resolutions in 2023, collective action was proposed as a solution.
This is not a new idea: activist investor ShareAction already co-ordinates investors and stakeholders to submit resolutions. But attendees seem to believe it is an effective one. Co-ordinating and sharing the resources of pension funds who share the same priorities could give ESG resolutions the boost that they need to succeed at AGMs. A good starting point is for pension funds to be more vocal about the issues they support, something which NEST, Aegon and the Church of England Pensions Board are already doing.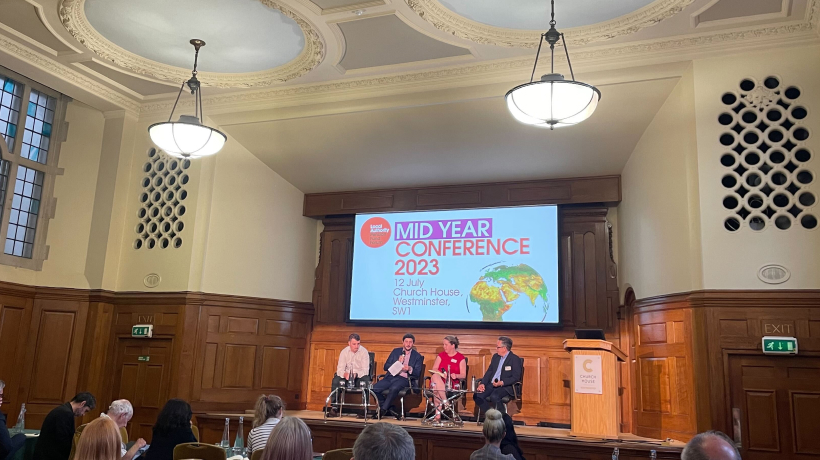 Divestment — effective ultimatum or engagement oversight?
Speaking of the Church of England Pensions Board, the fund's recent divestment from oil giants such as Shell was the conference's topic du jour. After years of engagement with oil companies, the Church of England withdrew its investments from them altogether. The decision is a powerful one, proving that the Church was ready to go all the way in defending its stewardship priorities.
On the flip side, some raised concerns that divestment strategies could lead to fewer ESG voices at the table. The idea goes: if sustainability-focused pension funds divest from Shell, the number of shareholders who support ESG resolutions would decrease. This, some attendees raised, could make it even harder to pass such resolutions at companies' AGMs.
When divestment becomes an option will depend on how far asset owners are willing to engage with companies before they think that progress is unlikely.