Pass-Through Voting and Treating Unitholders Equally
Tumelo helps fund managers win and retain clients with diverse stewardship policies through our Pass-Through Voting infrastructure. One of the key regulatory questions when it comes to Pass-Through Voting is how fund managers can meet requirements to treat all unitholders equally. In this blog post, we explain this challenge and discuss how Tumelo's functionality solves for it specifically.
The regulatory context
A fund manager's fiduciary duty comes from 4 sources:
Tort being the tortious duty to exercise due skill, care and diligence.
Legal and common law fiduciary duties imposed by the legal structure of the fund which may, for example, stipulate director duties.
Contractual duties as set out under a fund's documentation.
Regulatory duties imposed by regulators such as the Financial Conduct Authority (FCA).
The FCA Handbook contains multiple requirements which are applicable to funds and fund managers. These vary - some are high level principles, while some are detailed rules regarding funds. 
The following FCA principles are relevant:
Principle 2: A firm must conduct its business with due skill, care and diligence.
Principle 3: A firm must pay due regard to the interests of its customers and treat them fairly.
Furthermore, the following COLL rules are also relevant: 
COLL 3.2 governs the instrument constituting the fund, in particular COLL 3.2.2(c) provides that the instrument constituting the fund must not contain any provision that is unfairly prejudicial to the interests of unitholders generally or to the unitholders of any class of units.  Guidance on this rule at COLL 3.3.2(2)(a) provides that a unit class should not provide any advantage for that class if that would result in prejudice to unitholders of any other class 
COLL 4.4.1 contains provisions about unitholder voting procedures 
Treating all unitholders equally
Broadly speaking, there are two types of unitholders: institutional and retail. Funds can be either institutional-only or be open to both institutional and retail investors.
If Pass-Through Voting is enabled for a fund, then all unitholders of that fund should be given the option to take up that functionality. The fund manager should try to enable this functionality for both retail and institutional investors if both are unitholders of the fund. If only institutional investors in the same class of a fund were permitted to express their views, retail investors in that class could legitimately complain about unfairness - although it would be possible for a fund to offer this to one class of unitholders only (and not all classes), so long as the costs and burden of Pass-Through Voting is borne by that class only and not all classes.  
In practice, to access Pass-Through Voting, a retail investor may need to move to a broker platform which offers the functionality. So long as the fund allows all unitholders in a class to participate in the offering, the fund manager does not need to then ensure that all broker platforms where their fund is offered support the service. It would be for the unitholder to hold its units through a platform which in practice allows Pass-Through Votes to be collated.
Tumelo supports both institutional and retail platforms, so fund managers can seamlessly meet this requirement with the same infrastructure.
Institutions
Institutional investors get access to a first-class user experience which allows them to set a vote policy or vote directly on individual meetings. They can also fulfil all of their reporting requirements from the same platform - reducing the fund manager's workload and helping them stand out against competition.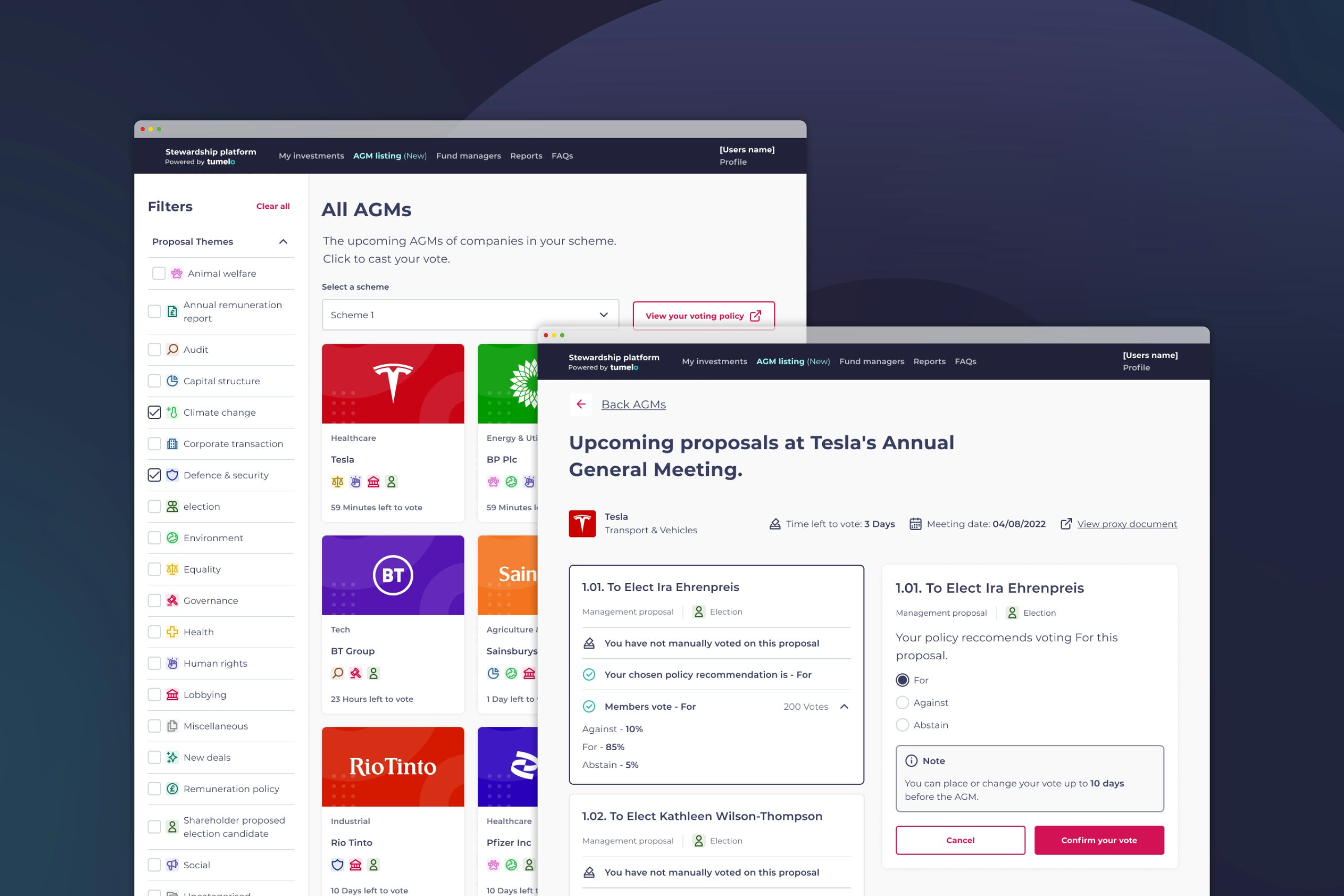 Retail
Reaching the retail investors in a fund is a decade-old challenge.
Due to broker platforms using an omnibus structure at the custodian, the custodian does not know who the retail investors are, only that the broker platform owns X number of shares. The traditional proxy system stops at the custodian, meaning the retail investor can't vote.
Tumelo takes a beneficial owner-first approach, directly verifying holdings information with broker platforms, allowing fund managers to pass the vote to the true beneficial owner, regardless of whether they are a client of a broker platform, pension provider, IFA, or invested directly. Retail investors can opt in for Pass-Through Voting by signing up to the Tumelo platform and connecting their brokerage accounts.
Conclusion
Both retail and institutional investors want more say on the issues they care about. Therefore, fund managers must find innovative, efficient and responsible ways to deliver for their clients.
Tumelo's solution enables fund managers to do just that; to offer a product for both institutional and retail clients that has the low cost of a pooled fund, but with the voting flexibility previously reserved only for the largest clients in a segregated mandate.
To discuss how our product can add value to your organisation, book a demo.
Disclaimer: Information contained within this article should not be considered as professional legal and/or financial advice. Readers will take full responsibility for the use of any information provided.