Asset owner series #3 - takeaways from the Vote Reporting Group's consultation paper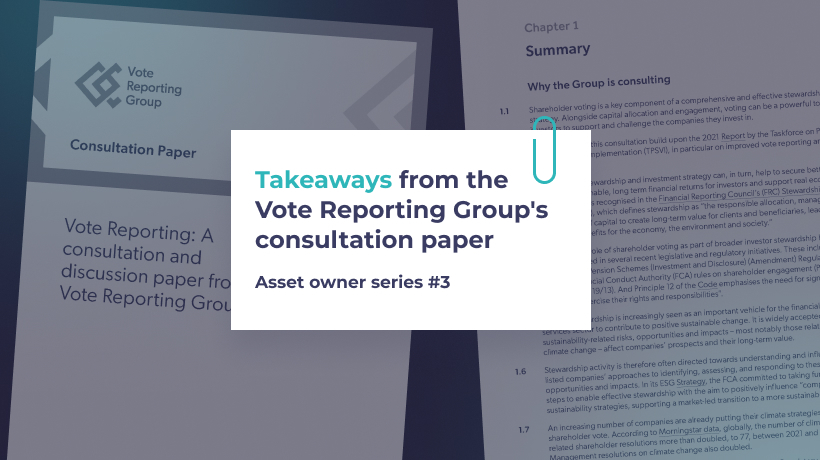 Author: Edd Micklem, VP, Head of Strategic Partnerships, Tumelo
The Vote Reporting Group, an independent working group established by the Financial Conduct Authority (FCA), released its first discussion and consultation paper in June 2023.
The paper proposes a voluntary vote reporting template under which UK asset managers will be encouraged to disclose voting data — a move that will empower asset owners' stewardship efforts if implemented.
This edition of the asset owner series highlights key takeaways from the long-awaited paper and what asset owners may want to consider in their reply to it.
What is the Vote Reporting Group?
The Vote Reporting Group, created back in November 2022, was tasked with "enhanc[ing] shareholder vote reporting by asset managers operating in the UK". It has 31 members including investment managers, pension funds, companies, and non-governmental organisations.
As its name suggests, The Group's main concern is vote reporting, which at the moment takes various forms as a result of there being no industry-standard template. For asset owners, this means that the quality of vote data they get heavily depends on their relationship with their asset manager.
The Pensions and Lifetime Savings Association's (PLSA) Implementation Statement is a relatively recent example, launched in October 2020, which requires trustees of occupational pension schemes to disclose the voting of "significant votes". Asset managers also have vote-reporting obligations through the Financial Reporting Council's UK Stewardship Code (if a signatory), Principle 12 and the Financial Conduct Authority's rule 2.2b.
To date, the Group has had six meetings and released one consultation and discussion paper.
What should I know as an asset owner?
The force is with stewardship

The tone of the Group's consultation paper was set by its opening sentence, a simple two-word phrase: "voting matters". In the paper's introduction, Sacha Sadan of the FCA emphasised that "Voting is an essential part of effective stewardship," but that its full potential is yet to be realised due to barriers such as a fragmented vote-reporting system. As such, the paper's recommendations are aimed at increasing transparency and uniformity of the UK's vote reporting.

The Group's work is part of a broader effort by UK regulators to improve stewardship, such as the proposed Sustainability Disclosure Requirements and the Transition Plan Taskforce's disclosure framework. The paper also builds on the recommendations of the Taskforce on Pension Scheme Voting Implementation's 2021 report, which strongly advocated for better vote reporting and monitoring.

What all this means is that asset owners will be expected to take more ownership over the stewardship activities of the managers they have appointed; simply stating that this is a delegated responsibility is no longer enough. As Deborah Gilsha, Chair of the Group, reiterates:

"The use of voting to accelerate and support positive change will only become more important as we seek to drive sustainable, real-world outcomes across our economy through stewardship."

The three areas of vote-reporting data

The vote reporting template put forward by the Group is divided into three sections: standard data, vote categories and vote rationales.

Information required under the standard data section is straightforward, concerning objective information such as "name of the issuer", "meeting date", "resolution identifier", and other details that identify the vote in question.

The vote category section provides the asset owner with more background on the votes covered, containing fields such as "resolution category" and the asset manager's "vote instruction". The level of detail on the resolution categories might be a potential point of contention. While the Group proposed a high-level, single tier of categories for votes, such as "compensation" and "environment or climate", asset owners have previously commented that they found more specific categories such as biodiversity useful.

Finally, information in the vote rationale section places the previous data in important context from a stewardship perspective. The four fields proposed in this section are: "standardised rationale category"; "narrative rationale"; "is vote decision in line with the asset manager's voting policy?"; and "is the vote decision linked to engagement with the issuer?".

Importantly, it was proposed that the rationale fields only be populated when necessary, such as when the vote is a shareholder resolution or concerns a merger or acquisition.

As the vote rationale section is intended to enhance the information asset owners receive on votes, it would be helpful for asset owners to provide feedback on what type of rationale would be useful, and in what situation it would be necessary.

Making the information public

Whether or not the proposed reporting template will be displayed on a public registry is yet to be seen. The Group has put forward no suggestion either way, and are waiting for feedback from the industry.

Making the data public information would allow asset owners to assess their existing asset managers' voting activity, as well as the activity of asset managers they plan to work with. Public declaration could also consolidate other forms of vote reporting, streamlining what appears to be an increasingly heavy reporting activity.

The question is: who should own and fund that registry?

Deadline to give feedback

The Group has listed all the questions they would like feedback on in Annex 1 of the paper. Asset owners who want to give feedback have until September 20th 2023 to do so in writing. The Group will then publish a Feedback Statement which will certainly heavily shape the final vote-reporting framework.
Conclusion
More transparent voting data will enable asset owners to better understand how voting fits in with their overall stewardship strategy. This is important as votes cast in opposite directions for the same resolution could weaken the impact an asset owner seeks to make through their investment decisions and engagement efforts.
Already Tumelo's white paper shows how miscasted votes nullify asset owners' stewardship strategies. Greater alignment on voting between asset owners and managers can enhance that working relationship and bolster stewardship on both sides.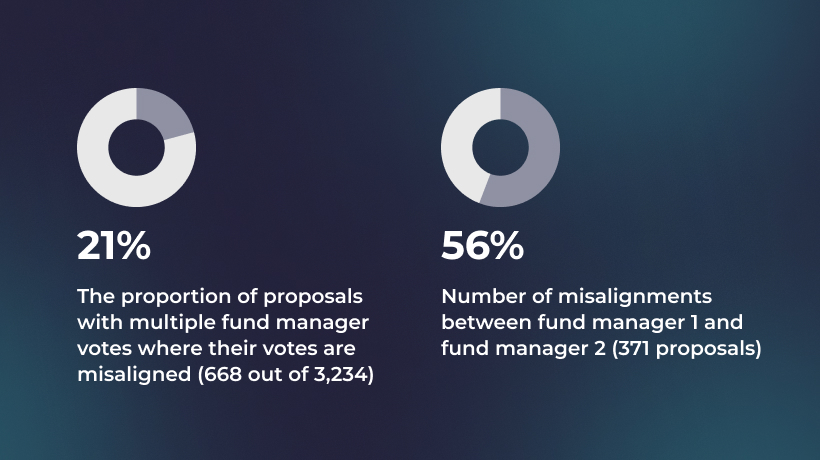 The consultation paper is an opportunity for asset owners to mould the regulatory expectation which they will no doubt be under in the next few years.