Asset owner series #1 - The Pensions Regulator's upcoming campaign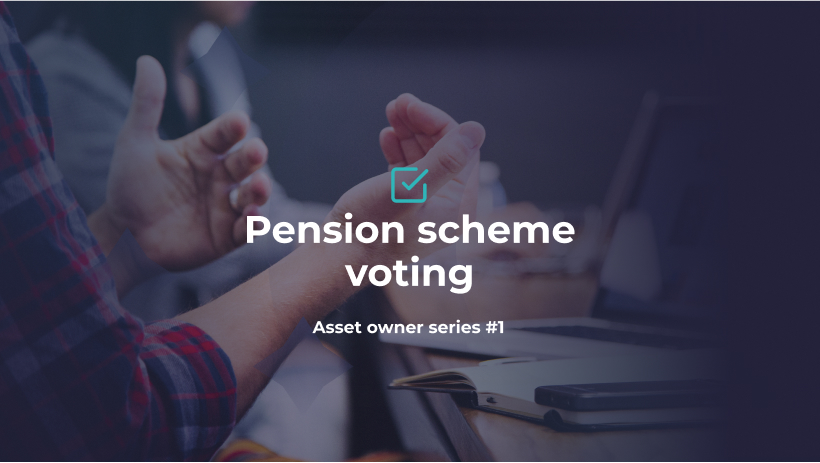 Author: Edd Micklem, VP Investor Partnerships, Tumelo
The Pensions Regulator's latest press release reminds trustees to pull together their statement of investment principles (SIP) and implementation statements (IS) ahead of an environmental, social and governance (ESG) campaign in spring 2023. Schemes with more than 100 members who fail to produce the reports are warned of a fine of up to £50,000.
The upcoming campaign not only shows the growing expectation on trustees to manage ESG and climate-related risks, but more generally, how trustees manage their scheme's voting activity.


What is voting activity?
Often, a large chunk of a scheme's funds are invested in public companies. Every year, these companies hold annual general meetings (AGM) where shareholders vote on resolutions like electing the board of directors and approving executive pay. As investors, and therefore shareholders of these companies, schemes have the right to vote at these AGMs.
Most trustees in pooled funds will have delegated their voting responsibilities to their asset managers. Typically with the help of investment consultants, trustees are encouraged to communicate with asset managers their schemes' investment priorities. This is the main concern of implementation statements — and therefore, the Pension Regulator's spring campaign.


Retaining ownership of the process
A lot of guidance has been given on ensuring that trustees and their asset managers are aligned, especially in relation to the production of the IS. The Pensions and Lifetime Savings Association (PLSA) advises trustees to "describe how they have retained ownership for the investment approach taken and its outcomes".
One way of ensuring this is working with proxy advisors on crafting a voting policy, as it provides asset managers with schemes' voting preferences.


The need for better communication
Taking that a step further, trustees should ensure that their asset managers' voting activity is aligned with their views, and those of their scheme's beneficiaries. This is becoming an increasingly important aspect of managing a scheme's investments, as demonstrated by the Occupational Pensions Stewardship Council's (OPSC) report on scheme voting activity.
The OPSC report touches on the asset owner-manager relationship, and comments that while asset managers are currently best-placed to manage voting activity, they expect that "asset managers work to ensure better and more open, honest communication with clients about voting". This signals the need for better reporting on voting behaviour to encourage collaboration between asset managers and asset owners.


ESG and stewardship go hand in hand
According to recent ESG guidance from the Society of Pension Professionals (SPP), trustees are by law required to utilise stewardship as part of their ESG efforts. This adds another layer to the approach that many schemes would have taken regarding ESG: ESG investing.
The SPP highlighted the Department for Work and Pension's increasing focus on scheme's delegated voting behaviour, and encouraged trustees to to strengthen their SIPs, and ensure that their asset managers are on the same page. This means that more than just investing in specific companies, trustees should look to engage with those companies on ESG concerns.


Conclusion
Clearly, the door is wide open for trustees to initiate conversations on issues such as asset manager voting rationale, "significant votes", and alignment of voting activity.
And with the draft Single Code of Practice (of which the finalised version could be released anytime soon) containing specific modules on stewardship and implementation reports, there is little reason for pension scheme trustees not to spring clean their governance practices.