Tumelo launches industry-first stewardship alignment solution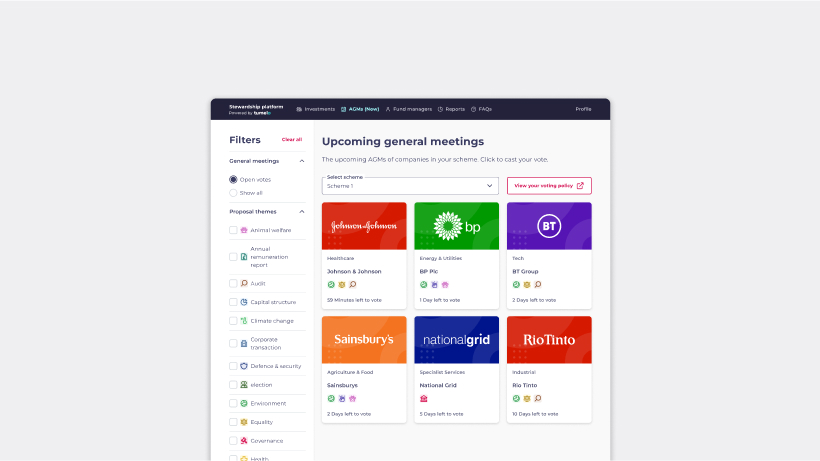 The PLSA and the IA published a joint report "
Investment relationships for sustainable value creation
" in June this year. The report called for a closer working relationship between asset owners and asset managers on investment and stewardship issues to promote long-term sustainable value and meet beneficiaries' investment objectives. Policy-makers including the DWP, FCA and FRC are looking to institutional investors to evolve their stewardship engagement.
Tumelo's voting service is set to align fund managers with their institutional clients on stewardship issues.
LGIM is leading the charge and is the first fund manager to provide NatWest trustees with Expression of Wish via Tumelo's voting platform.
Fund managers and institutional investors can easily review stewardship and vote policies on an ongoing basis; Tumelo's platform offers full transparency on holdings and actionable insights on voting issues.
Tumelo voting services can support Expression of Wish or Pass-Through Voting.
Tumelo's data platform reduces costs, saves time, and strengthens relationships between fund managers and their clients.
Tumelo is in advanced discussions with other forward-thinking asset management firms who wish to better engage with investors
Tumelo's ground-breaking voting platform, which already enables retail investors and pension-scheme beneficiaries to give fiduciary managers their own view on shareholder proposals, is now available to institutional investors.
Pension-scheme trustees and asset owners can use the service to monitor and regularly engage with their asset managers on stewardship issues concerning assets held by the investment managers.
Georgia Stewart, Tumelo CEO, said: "We expect this technology to become critical for asset managers to use in relationship management with their many clients on stewardship issues. It will help them win new clients and it will strengthen relationships with existing institutional clients who care about stewardship."
For fund managers, Tumelo's voting services help them to appeal to investors with diverse opinions and removes the burden of voting on controversial issues without client input. This is an issue that is becoming increasingly important as more people become aware of issues that are important to them, and want to align their beliefs with their investment choices.
Access to Tumelo voting data means fund managers can better understand their clients' wishes and expectations on stewardship issues. Tumelo's service gives unprecedented granularity and clarity to voting issues. The vote reporting systems mean fund managers and their clients can also review vote outcomes, providing an audit trail of choices made and a basis for constructive analysis at review meetings.
Stewart concludes: "Tumelo's mission is for every investor to have their shareholder vote, and this expansion brings the industry one step closer to making this a reality."
Notes to editors:
How Tumelo's technology works
Tumelo's platform gives institutional investors visibility of their holdings, as well as the ongoing voting activity that's happening on their behalf by the fund managers of those assets. This equips institutional investors to confidently engage with their fund managers on voting decision-making, and share their own Expressions of Wish on proposals.
While asset managers are not obliged to comply with the asset owners' wishes, it's likely that they will to maintain an aligned approach and relationship. Where they don't, the Tumelo reporting service allows both parties to discuss "the why" at their next review meeting.
Thanks to this feedback loop, both parties benefit from a simple, cost-effective way of ensuring they are always in close alignment. Where fund managers pass voting privileges to their clients via Pass-Through Voting, they can also remove the burden of voting on controversial issues.
For the asset owners, it ensures they are discharging their fiduciary duty to their beneficiaries and for the asset managers, it means a strong relationship with their clients.
About Tumelo
Tumelo was established at Cambridge University, where our founders, Georgia, Will and Ben, campaigned for the sustainable investment of their university's £6 billion fund.
They recognised a global problem: Millions of ordinary people contribute to our investment system through ISAs, workplace pensions, and other investments. Yet most have no visibility over where their money is going and no voice at the many companies they own through their investments. The result? A society that is disengaged and an investment system that is failing to address critical social, environmental and governance challenges.
Tumelo was founded to change this. Our software shows investors the companies they own and empowers them to engage on issues they care about. In doing so, we help investment firms connect with customers so they can better serve people and protect our planet.
Contact:
Tom McPhail
Director of public affairs, the lang cat
tom@langcatfinancial.com
07957 273627