Deliver your regulatory
reports quickly
Tumelo gives you all of the data you need to deliver PLSA Implementation Statements in a single, simple platform. We collate the data for you, freeing up your team to focus on delivering other valuable services to your clients.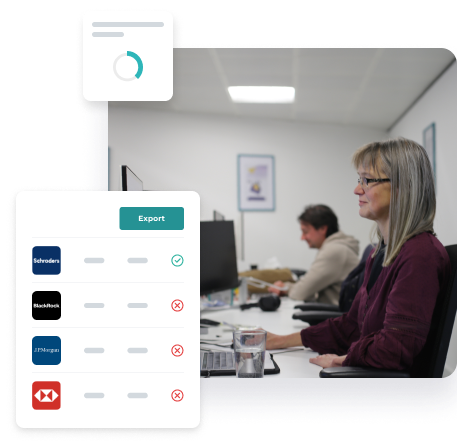 Who we work with








Our products:
vote reporting
Tumelo provides the data you need to deliver PLSA Implementation Statements and more in a single, easy-to-use platform.
Access to the latest voting data and trends within seconds.
Focus your conversations with clients on the issues that matter most to them.
Offer additional client support by selecting vote policies that align with their strategy.
Reporting
Interrogate the voting activity of your clients' funds using Tumelo's vote reporting. Purpose built for the industry, regulatory compliance is at the heart of the platform. Your team can export data to complete a vast range of regulatory reports.
Key features
Explore
our products
To find out more about our other products click the links below.
By working together, Fidelity and Tumelo have been able to take this one step further by creating a bespoke Stewardship Hub, giving trustees the ability to interact with the stewardship approaches of their fund managers and ensuring the prioritisation of member outcomes.
Kim Nash
Independent Chair of the Trustees, Fidelity Master Trust
Download

our white paper or book a demo for more information on pass-through voting.