Amazon primed for record AGM proposals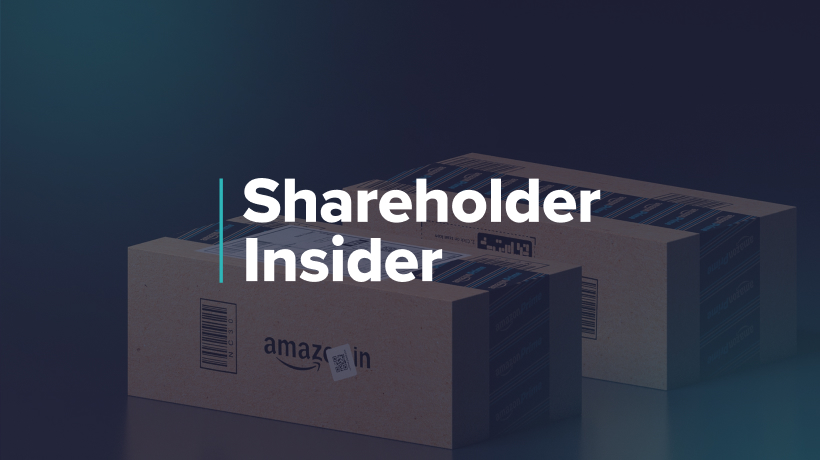 E-commerce giant Amazon faces a hefty 18 shareholder proposals at its AGM on May 24th, which beats its 2022 record of 15. This marks a movement of activist investors pushing for environmental, social and governance (ESG) changes within the business.
The shareholder proposals largely ask for better reporting on Amazon policies or practices, like climate lobbying, gender/racial pay, warehouse working conditions, animal welfare standards, packaging materials, and customer use of certain technologies.
Activist investor Tulipshare, for example, is pushing for an independent report on Amazon's warehouse safety after a US government department found workplace safety violations in six Amazon warehouses.
Arjuna Capital has refiled a request for Amazon to report on median pay gaps across race and gender (a proposal that received 22% of votes in favour last year).
Shareholder proposals need at least 50% of votes to pass, even though the results aren't binding.
Shareholder Voice campaign hailed by platforms
A campaign to boost shareholder democracy led by M&S chairman Archie Norman, is getting solidarity from the UK's biggest investment platforms, reports the Mail on Sunday.
This follows Norman's letter to Business Secretary Kemi Badenoch asking for five key changes to company law that's stuck in a "40-year-old time warp", in order to democratise and popularise shareholder capitalism. They include:
Increased two-way dialogue between companies and shareholders.

A standardised technology solution across the sector.

Digital communications as default.

Removal of requirement of hard copies.

Recognition of digital AGMs.
Richard Wilson, CEO of the UK's second largest investment platform Interactive Investor, says Norman's campaign is a 'tipping point' for shareholder democracy and that private investors "shouldn't be inhibited by red tape or time-consuming bureaucracy, especially in today's world where technology provides simple, time-saving solutions".
His comments were echoed by Danny Cox of Hargreaves Lansdown, the UK's largest retail stockbroker, who said: "We are engaging with this initiative and supportive of its sentiment."
Shareholder sues Fox Corp over presidential campaign "falsehoods"
Reuters reports that a Fox Corp shareholder is suing Chairman Rupert Murdoch and four other board members for allegedly failing to stop Fox News from reporting falsehoods about the 2020 US presidential election. The shareholder, Robert Schwarz, claims that failure has caused reputational damage to the network and triggered defamation lawsuits.
"FOX knew – from the Board on down – that Fox News was reporting false and dangerous misinformation about the 2020 Presidential election, but FOX was more concerned about short-term ratings and market share than the long-term damages of its failure to tell the truth," he said in the lawsuit.
Schwarz is referring to defamation claims (totalling $4 billion) by two voting technology companies, Dominion Voting Systems and Smartmatic USA, which Fox reported were involved in a conspiracy to steal the US presidential election from Trump.
The trial in the Dominion case is scheduled to begin in Delaware Supreme Court with opening statements on Monday (April 17th).